Bridal Party Makeup Services...
Make-up consultation

The bridal party will receive time with a professional make up artist to choose the best colors to compliment the colors chosen by the bride. We will coordinate a look or each prides maid that will compliment the make up style of the bride.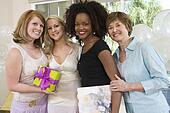 Savvy Budget Make-up lesson** Bridal Packages tailored to size and needs of the bridal party. We will help you choose the color coordinated cosmetics that best suit you and learn easy techniques tailored to how you want to look for that special day. We will cleanse, tone and moisturize your face. Then we will customize the perfect make-up style to fit each member of the bridal party.