Diabetic Devahs. Choose It and Lose It with me...the weight project that rewards
November is Diabetes Awareness Month
DIABETIC DEVAH AWARENESS EVENT

Diabetic Devahs coming together be a source of encouragement, share healthy habits and resources and personal pampering.
TOPIC: Be Real With Yourself
It is a challenge to embrace diabetes because one thing that helps us sustain life can also take our life away....FOOD.
We must be "REAL" with ourselves and take control of our blood sugars.
FREE Resources, Prizes etc
November 21, 2015 at 1pm - 6pm
(2 sessions 1pm - 3pm & 3pm - 6pm)
A STREAK OF RED FUNDRAISER EXTENDED UNITIL DECEMBER 31, 2014
SUPPORTING AMERICAN DIABETES ASSOCIATION

FREE RED HAIR COLOR STREAKS WITH MINIMUM. $25. HAIR SERVICE

Thursday - Saturday 11:00am to 6:00pm
November Events: Lets Celebrate together by wearing a
Streak of Red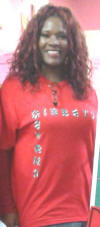 We have Diabetic Devahs Awareness Events
Free Makeovers for Diabetic Devahs, Diabetic Devahs Day of Beauty, Diabetic Nutrition 101 Events, Make-up and T-Shirt Fundraiser. Diabetes is not pretty. Having such a chronic disease can sometime make you feel down causing one to neglect your health and personal appearance. Diabetic Devahs take a personal interest in the health and appearance, and always looking for ways for improvement and to encourage others. Diabetic Devah Events place emphasis on the importance of coming together to be a source of support and encouragement for one another to maintain good health and beauty. Using the salon as a model for a healthy lifestyle provides a fun and indulgent approach to healthy habits and disease management.
Diabetic Devahs...Healthy Meals for you Monday, November 3, 2014 at 6pm
Nutrition 101 November 18, 2012
Diabetic Devah Day of Beauty November 17, 2012
Diabetic Devah Free Makeovers November 11 and 24, 2012
Weight Loss Goal is divided into segments (approx 5 -10lbs every 25 days)Smaller goals are easier to reach.
Coming Soon
... Weight loss segments:
Jan 12th - Feb 5th
break
*
Next Feb 9th - March 5th
break
March 9th - April 3rd
break
Extended Ending Date

April 6, 201 – May 1, 201
Must participate in a minimum of 2 segments
consult your physician before beginning any weight loss program, project, or plan
Choose it and Lose it
I challenge you to loose 10 - 20 pounds with me...Your reward will be well worth it...
Contact me at: diabeticdevahs@galacar.com