Diabetic Devahs. Choose It and Lose It with me...the weight project that rewards
A STREAK OF RED FUNDRAISER EXTENDED UNITIL DECEMBER 31, 2014
SUPPORTING AMERICAN DIABETES ASSOCIATION

FREE RED HAIR COLOR STREAKS WITH MINIMUM. $25. HAIR SERVICE

Thursday - Saturday 11:00am to 6:00pm 904-487-9254
Diabetic Devahs T-Shirt Fundraiser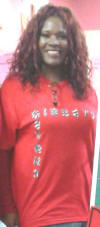 Vision: Increasing the awareness of the direct effects of weight and health.
Mission Statement: Improve health by increasing weight loss to reduce health problems related to diabetes, high cholesterol, high blood pressure, by progressively of focusing on healthy eating, exercise as a team and weight loss rewards.
Weight Loss Goal is divided into segments (approx 5 -10lbs every 25 days)Smaller goals are easier to reach.
Weight loss segments: UPDATING
Jan 12th - Feb 5th
break
*
Next Feb 9th - March 5th
break
March 9th - April 3rd
break
Extended Ending Date April 6, 201 – May 1, 201
Must participate in a minimum of 2 segments
consult your physician before beginning any weight loss program, project, or plan
I challenge you to loose 10 - 20 pounds with me...Your reward will be well worth it...
Registration and Photo Shoot by February 9, 201,
Registration Days: February Wednesday ,
Thursday 5th, Friday 6th and Saturday 7th,
201
Scheduled Time:
11:00am - 2:00pm
Commitment Fee:
$10.
per
segment
Meet the Choose it and Lose it Challenge and receive a
Reward
.
Minimum weight lose 10lbs.
UPDATING
Contact me at: diabeticdevahs@galacar.com