Diabetic Devahs. Choose It and Lose It with me...the weight project that rewards
Low Calorie- Low Fat Recipes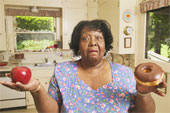 Healthy Eating Starts Now!
Controlling Portion Sizes:
Eating smaller portions of food is one of the easiest ways to cut back on calories—but it can also be one of the most challenging, with the current trend of super-sizing. How do you know a reasonable portion of food when you see it? Visualize the objects mentioned below when eating out, planning a meal, or grabbing a snack.
Plan ahead - Pack fruit, trail mix (seeds, dried fruits, nuts), yogurt, and other portable foods ahead of time in your backpack. Then you won't have to rely on vending machines and convenience stores.

Snack consciously - Mindless or emotional nibbling can lead to overeating. Try to eat a snack without doing anything else. Don't watch TV or study at the same time, especially if you are under stress.

Choose nutrient-rich foods. Examples would be whole grain muffins and crackers, baby carrots, popcorn, fresh fruit, yogurt, low-fat cheese, peanut butter, and nuts and seeds.

Pay attention to the difference between hunger and boredom or the need for a distraction. Have other non-food ways to manage stress and relax. Listen for fullness, too. Your body, when given 20 minutes at a meal or snack, knows when it has had enough.
Here are some ideas for healthy, quick-to-prepare snacks to have on hand in your room or backpack:
Instant or canned vegetable or bean soup,

Pretzels (whole grain for extra fiber and staying power),

Snack-sized cereal boxes (same benefits if whole grain),

Dried fruits,

Oatmeal packets (especially good with dried cranberries or raisins, and nuts),

Low-fat crackers with peanut butter, almond butter, or low-fat cheese,

Low-fat yogurt with fruit pieces stirred in,

Air-popped popcorn with topping ideas: cinnamon, chili powder, low-fat cheese sprinkles (add butter flavored spray to help these flavors stick to popcorn),

Low-fat frozen yogurt with graham crackers, vanilla wafers, or ginger snaps,

Baked tortilla chips with low-fat melted cheese and salsa,

Raw fruits and vegetables, already cut up and in zip-loc bags ~ can be dipped in mixture of plain yogurt mixed with salsa or herbs,

Fruit smoothies (frozen or chilled fruit pieces blended with fruit juice and nonfat fruit yogurt), and

Remember that water is an essential nutrient. To quench your thirst, instead of soda, try juice spritzers (one part juice and one part sparkling water), vegetable juice, or flavored mineral waters

.

Try adding at least 30 - 35 grams of fiber to your diet. I did and it worked.
Weight Loss Goal is divided into segments (approx 5 -10lbs every 25 days)Smaller goals are easier to reach.
Weight loss segments: UPDATING
Jan 12th - Feb 5th
break
*
Next Feb 9th - March 5th
break
March 9th - April 3rd
break
Extended Ending Date April 6, 201 – May 1, 201
Must participate in a minimum of 2 segments
consult your physician before beginning any weight loss program, project, or plan
I challenge you to loose 10 - 20 pounds with me...Your reward will be well worth it...
Details about our challenge will be posted soon... Diet, Exercise etc.
Contact me at: diabeticdevahs@galacar.com